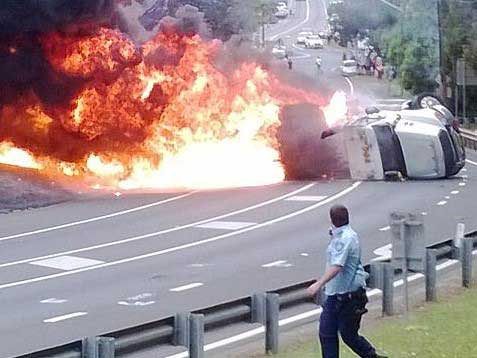 Wheel Alert Technologies founder, Ashley Wass, grew up in Adelaide where the notorious South Eastern freeway has always caused serious issues for truck drivers. With the new Adelaide to Crafers section opened in March 2000, this only added a more deadly challenge for truck drivers of a sustained continuous gradient with traffic lights at the bottom. Heavy vehicles with inadequate braking found it hard to slow down once they had exceeded a certain speed; this was made worse with brake failures.
Even after;
changeable electronic road signs were installed every 200 metres,
new laws introduced so that any vehicle with 5 axles must not exceed a 60 km/h,
more Safety cameras installed, and
additional signs for the two arrester beds,
truck incidents including fatalities are still a regular occurrence.
With experience in machine condition monitoring and reliability engineering extending back to 1996, Ashley, while working for a previous employer, was approached by a mine site to develop a condition monitoring solution to use live monitoring for hybrid-electric mine truck wheels. Using a technology partner's aging hardware and with adjustments to the software, Ashley successfully developed a solution and it was then patented by his employer. By going through this process Ashley saw that by using more modern technology there was a possibility he could finally help to prevent the incidents and fatalities that the notorious South Eastern freeway had presented his entire life. Wheel Alert Technologies was thus established in 2015 solve these issues.
Wheel Alert Technologies originally started with the aim of producing an affordable truck wheel monitoring sensor so that every truck driver and company can have access the benefits of live monitoring of its wheel bearings, brakes and tyres. However, with the collaboration of some of the smartest minds in the country for the development of the sensor, it's true potential, like unpeeling an onion, started to be unveiled. With modifications and proprietary knowledge, the technology could be used for road condition monitoring as well as rail wheel and track monitoring where track breaks, track buckling and carriage bearing failure are the three top causes for train derailments. Of course, it goes without saying, that mine truck wheels were next on the radar.